60 Year Reunion Rap (Attempt)
While we're working on full galleries of photos of the Reunion, here is a copy of the "Rap" that Lee Schwartz wrote for the Reunion and that she and I (Pat Moore) attempted to perform. Our saving grace is that everyone in the room on Saturday Night was as old and gray as we are, so, hopefully everyone had some compassion (sympathy?) for us..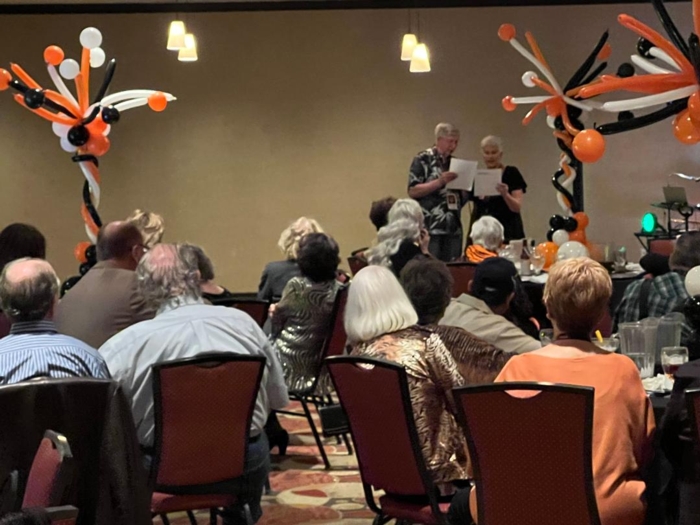 Photo by Steve Saltzman
60th Reunion (It's a Wrap) Rap
By Lee Schwartz
We're the head tigers of this domain
There's just one thing we wanna make plain.
Attitude is the key to success.
If you don't have that, you've got a mess.
We've got attitude, some of the best.
We've got attitude, better than the rest.
Just look around and see who came
You may forget faces, but never the names.
Been 60 years since we left La High.
Some have passed on, but many are alive.
And some of those "many" are here today
Lots of you came from far away.
It took a lot of dedicated folks.
Your committee worked hard, and that's no joke!!
They are the best, they can do no wrong.
We may be older, but we're still going strong!!
Committee Recognition (Rap continues Below)
Lee Schwartz – Chair/Directory/Budget/Friday Night Hostess
Pat Moore – Website Admin/Hotel Liaison/Hospitality Suite Host/Printing
Janie Shockley – Treasurer/Budget/Mailings
Nanette Gabriel – Artwork/T-Shirts/Printing Invitations/Mailings
Arturo Anchondo – Friday Night Refreshments/Mailings/Budget
Betty Garcia Flores – Decorations Guru Supreme/Hospitality Suite Host
Cecilia Sanchez Cortez – Decorations Guru Supreme/Goody Bags
Zef Bazan – Name tags & Lanyards/Mailings
Lupe Guttierez Borunda – Nametags/Mailings/Decorations
Nancy Whitus Kurbat – Decorations/Room Setup
Barbie Shectman Andreason – Lost Classmate Finder and Master Detective
Betty Ann Seiler – Classmate Finder/Mailings
Marsha Koortz – Mailings
Ann Reznikov – Mailings
Carol Smith – Mailings
Irma Terrazas – Hotel Venue Search/Mailings/Decorations
John McVaugh – Mailings
Stefan Kosicki - Mailings
We're so proud of what they've done
We know you agree and are having fun.
The hard work is worth it because you're here
To help us celebrate our 60th year.
But our eyes are dim and our hair is grey
Our bones are brittle and our memories fly away.
Our hearts are willing, but our bodies say no!
Another reunion is NOT a go.
Our skin is wrinkled and our bodies ain't fit
So it's time to say, gosh darn we quit!!
Been a labor of love and a real blast
But really, guys, this is our last!!!
So remember, Tigers of this domain
There's just one thing we wanna make plain.
Attitude is the key to success.
If you don't have that, you've got a mess