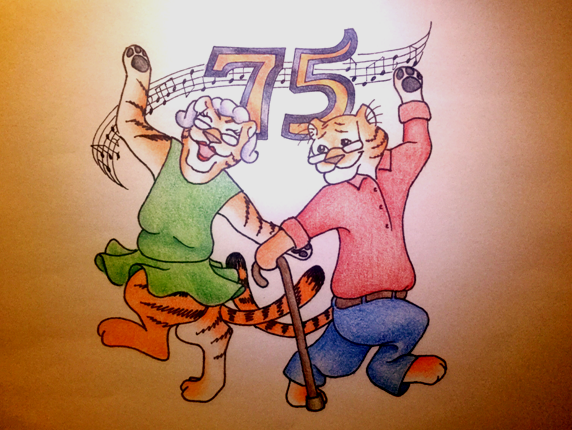 HAPPY 75TH BIRTHDAY TO THE GRRREAT CLASS OF '62
Save the Date: October 5, 2019
It is now midway between the Centennial Celebration (2016) and our upcoming 60th Reunion (2022) and responses to the class survey distributed las year indicated a desire for a class get-together. Most of us are turning 75 this year and 3/4 of a century on this earth is something to celebrate. So, we are having a Birthday Party on October 5, 2019 at Lee Schwartz' home here in El Paso. The cost will be $20 per person. More details will follow, but if you want to sign up in advance and lock in that $20 price (or just send in a donation), please send a check made out to EPHS Class of '62 to:
Janie Pierce Shockley, 3004 Kilkenny, El Paso, TX 79925
We would also appreciate additional donations over and above the $20. Any excess funds will be put towards our 60th reunion in 2022.
The only planned event will be the party on Saturday, Oct 5, but that is also Homecoming Weekend for EPHS. We will provide details about Homecoming activities when we get them, including tours of the school and the football game on Friday, Eve of the "E" and the parade on Thurs., etc.
If you have any questions, please feel free to contact me at mcpomoore@yahoo.com or Lee at Friedalee@aol.com.
NOTE: A special thanks to Classmate Ginny (Behrens) Satterwhite and her daughter Lindsay for the fantastic Dancing Tigers original artwork. You'll see more of these two "partiers" in future announcements.
EPHS Top Ranked EPISD High School in 2018 US News Assessment •
Once again, US News & World Report assessment of high schools across the nation places El Paso High School as the top ranked traditional high school in the El Paso Independant School District and second only to San Elizario High among all traditional (non-charter, non-magnet only, non-STEM only, and non-prepartory) public high schools in El Paso County. The Silva Healthcare Magnet, with a student body of 635, was the only EPISD school ranked higher (878 nationally v 1001 nationally) than EPHS. Neither Coronado nor Franklin high schools was recognized in the national rankings.
US News takes into account Graduation Rate and College Readiness Index as primary elements of assessment weighted with Math Profiency and Reading Proficiency scores along with Advance Placement (AP) Tested percentage and AP Passed percentage. The assessment also factors in Total Minority Enrollment Percentage and Total Economically Disadvantaged Percentage.
El Paso High School received Siver Medal recognition as 1001st Best High School in the nation which places EPHS' ranking at 124th among all Texas high schools, traditional and non-traditional together. A comparison of the San Eli and EPHS scorecards follows:
......................................... San Eli EPHS
College Readiness Index ........ 63.6% 45.4%
AP Tested ......................... 94% 63%
AP Passed ......................... 57% 63%
Math Proficiency ................ 91% 82%
Reading Proficiency ............. 52% 67%
Enrollment ........................ 1,040 1,387
Minority Enrollment .............. 99% 94%
Economically Disadvantaged .. 97% 66%
Full Time Teachers ............... 75 91
Student to Teacher Ratio ...... 14:1 15:1
The average for all high school students in EPISD is 25.9% College Readiness; 70% for Math Proficiency; and 56% for Reading Proficiency.
Ranked 1001st in the nation means there is a lot of room for improvement for the El Paso High community of studens, faculty, staff, parents, and alumni, but, when compared to the performance of public school student bodies throughtout El Paso, EPHS deserves accolades for it's recognition in the US News assessment..
El Paso County High Schools
Ranked Within the Top 250 in Texas
# 41 Harmony Science Academy 241 Nationall Rank
# 60 San Elizario High School 361 National Rank
# 86 Valle Verde Early College 613 National Rank
# 90 DaVinci School of Science 634 National Rank
# 93 Harmony School of Innovation 656 National Rank
#110 Silva Health Magnet 878 National Rank
#124 El Paso High School 1001 National Rank
#164 NW Early College 1513 National Rank
#168 Clint Early College 1573 National Rank
#187 Eastwood High School 2080 National Rank
#197 Ysleta High School 2215 National Rank
#203 Anthony High School 2273 National Rank
#207 Bel Air High School 2279 National Rank
#217 Del Valle High School 2563 National Rank
#227 Hanks High School 2691 National Rank
#250 Americas High School Recognized